Water Damage Knowledge Center of Las Vegas
What Does Water Damage Restoration Cost in Las Vegas?
Water damage can occur in Las Vegas for any number of reasons such as flash flooding, foundation issues, leaking roof, bursting or leaky pipes, broken appliances, running or leaking toilets, clogged drains and many more. The water damage restoration process involves two phases – the first phase being the removal of water and the second phase being the structural repairs and finishing. Many building owners can find themselves in the situation of having water damage easily and it may help to know what the restoration costs will be before you search to hire a company to fix it. The average range for water damage restoration in Las Vegas is about $19.61/SQFT or $1,800 – $8,600, with exceptions always being possible.
If you are in Las Vegas or surrounding areas and need water damage restoration, please contact the experts at RSI Companies.
Determining Factors for Water Damage Restoration Cost
The costs for water damage restoration vary by project based off of a few criteria. The type of water that is causing the flood is the biggest determining factor for costs along with the extent of the damage.
Type of Water Causing Damage
The water that has caused your situation may be either clean, gray or black water. The removal process is quite different based off of this factor.
Clean Water – This water comes from rain water or supply pipe in the form of a broken pipe or leaky faucet. This water has the least intensive procedure to remove it and therefor is the cheapest averaging $3.75/SQFT.
Gray Water – Gray water typically comes from a dishwasher or washing machine and is not pure, but slightly dirty from food or cleaning agents and health issues would incur from injecting it. The produces to remove this water are more intensive than fresh water and costs are approximately $4.50/SQFT.
Black Water – The worst kind of water damage comes from black water, which contains toxins. This is commonly from sewage pipes and is very important to properly remove. Due to the measures that need to be taken, it is the most expensive type of water damage to restore coming in at around $7.00/SQFT.
Size and Extent of Water Damage
Water damaged areas range in size and are classified by experts according to the extent by class. This helps determine the cost of your restoration project.
Class 1 – A small area of the home that has absorbed only a small amount of water. Examples might be walls and floors affected by a toilet.
Class 2 – A medium sized area such as an entire kitchen including a wood floor with damage.
Class 3 – Normally affecting walls, ceilings and floors, this area is usually caused from an insufficient roof.
Class 4 – An affected area that is difficult to access presents unknown levels of challenges that could widely vary in labor costs.
Cost Estimation by Type of Water and Class of Damage
Here is a chart that provides an estimate of costs based off of the two types of criteria, type of water and extent of damage (class).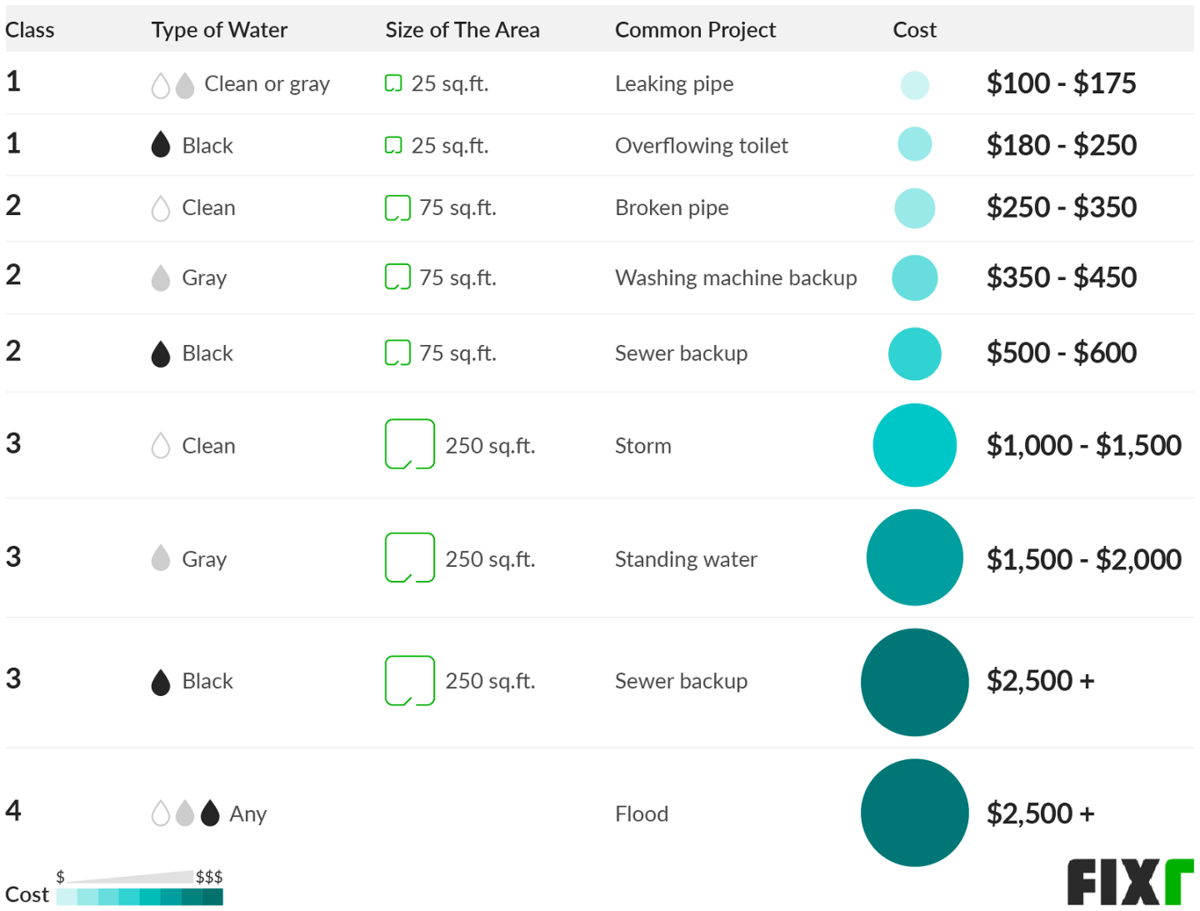 Examples of Water Damage Restoration Costs
In Las Vegas, you might see some of these costs for water damage restoration.
Plumbing repair work such as replacing a cracked pipe – $1,000 – $4,000
Plumbing for broken or leaky fixtures – $150 – $350
Mold removal – $5/SQFT
Vinyl floor replacement of around 200 SQFT – $1,200
Drywall ceiling repair of 100 SQFT – $300
Drywall replacement – $2/SQFT
Wall painting – $.25/SQFT
Hard wood floor replacement – $11/SQFT
Window replacement – $700 – $1,400
Door replacement – $300 – $600
New furnace – $2,500 – $4,500
New hot water tank – $600 – $2,500
If you are in Las Vegas or surrounding areas and need water damage restoration, please contact the experts at RSI Companies.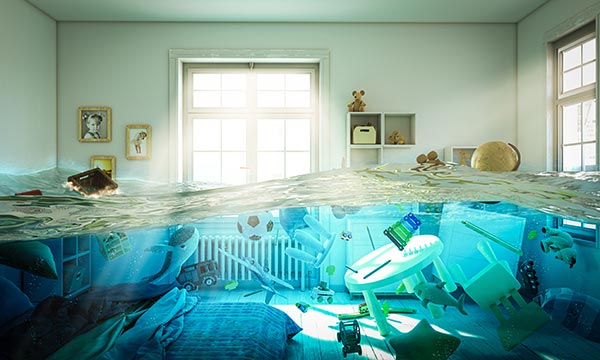 Get water damage restoration in Las Vegas. Get it done the right way and quickly.
Act Fast. Call RSI QUICK DRY.
Contractor's Licenses
B-2 Residential and Small Commercial
C-14C Ornamental Metal
C-3 Carpentry Maintenance and Minor Repairs
A-13 Wrecking Buildings
C-4A Painting
C-17 Lathing and Plastering
C-5 Concrete Contracting
C-18 Masonry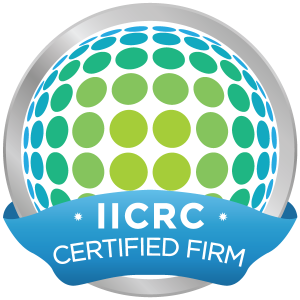 Licensed, Bonded and Insured. Business Licenses in All Jurisdictions.